Cherries have always been considered one of the best fruits to purify the body and get rid of toxins, thanks to its richness in anthocyanins that give our cherries that characteristic red-purple color.
Cherries are one of our main products, being the Monzón and Lámper varieties the most suitable for the manufacture industry of candied fruit and the best ones for its storage and maintenance in SO2, since it preserves the tail and allows us to pit them for cocktail cherries.
The cherries that our company sells grow mainly in the Jerte Valley, Extremadura. Planting the right cherry trees and a proper cultivation, growing and maintenance make the cherry collected during the months of May and July, give rise to a high quality product. Among the varieties that we can find in this area, we can highlight the Ambrunés, California and Pico Colorado cherries. Although our company purchases cherries from all over Spain, of varieties such as Monzón, Blanca or Lámper.
Fresh cherries are exported throughout Europe for the production of cherries in syrup. Cherries in SO2 are the main ingredient for the manufacture of products such as candied fruits, canned cherries, maraschino cherries (cocktail cherries).
Cherries in alcohol are also used for making chocolate bonbons. Cherries can even be used to make Kirschwasser (cherry liqueur).
Espagry Ibérica´s cherries stored in SO2 have been processed and treated in our facilities under the highest quality and safety standards to satisfy the demands of our customers.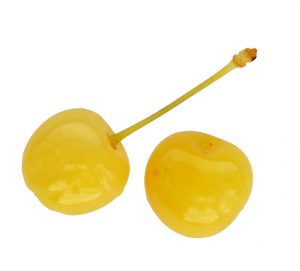 Frozen Cherries
Fresh frozen cherries are ideal to enjoy the properties of the cherry at other times of the year while maintaining their freshness, sweetness and flavor. Frozen cherries are packaged in bulk for the yogurt industry and ice cream manufacturing industries or for pastry fillings and desserts in industrial confectioneries.
Natural Dried titted cherries
Our high quality died or dehydrated cherries also let us increase the shelf life of cherries, completely naturally without any additives. We can find these cherries in snacks (such as cereal bars or as another delicious product that can be added to regular cereal, among others) or covered in chocolate, being a potential high-quality complement and a great natural source of fiber for breakfast. If the cherry has a high degree of dehydration, it can be ground/grinded, resulting in «cherry flour», widely used in the manufacture of smoothies, yogurts or a way to add flavor to meals and desserts in the industry.